Shoes Chatelles X Maison jean-Vier
Maison Jean-Vier and the Parisian shoe manufacturer Chatelles have joined forces to create a colourful, punchy and trendy collaboration. Our distinct skills are combined to create shoe models with exceptional weaves, to be worn like fine and delicate textile jewellery.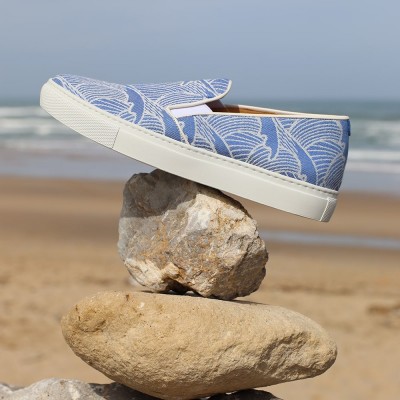 Regular price
€208.33
-40%
Price
€125.00
A new collaboration between Chatelles and Maison Jean-Vier
On the occasion of our 40 years of history, we wanted to realize a refined and different collaboration: the creation of high quality shoes, allowing us to flirt with another creative universe.
The shoes from Chatelles immediately appealed to us because of their originality and finesse; they have finishes worthy of meticulous craftsmanship and are 100% European made. The English inspiration behind their design is mixed with French elegance, all made with noble materials such as the Italian leather used for the soles.
Comfortable and aesthetic shoes made of fabric
The insole has the logo of our new collab. It was designed with the advice of a podiatrist. François du Chastel, the founder of the brand, has always tried to combine elegance with comfort. So we have participated in this manufacturing process by selecting some of our fabrics to model beautiful shoes to walk the Basque Coast as well as the urban streets of our beautiful cities.
The outsole is made of waterproof recycled rubber, with a leather look for the slippers and mules. It is made of rope for the espadrilles and trendy white rubber for the slip-ons.
Handmade shoes
The shoes are made by hand: our collaboration is a tribute to the craftsmanship and art of weaving. Summer fabrics, emblematic of our collection, were selected to create these new Chatelles X Maison Jean-Vier shoes. The idea was to mix the world of clothing with that of the very fashionable decoration, to propose a delicate and decorative shoe, similar to a piece of jewellery made with a high quality and resistant fabric.