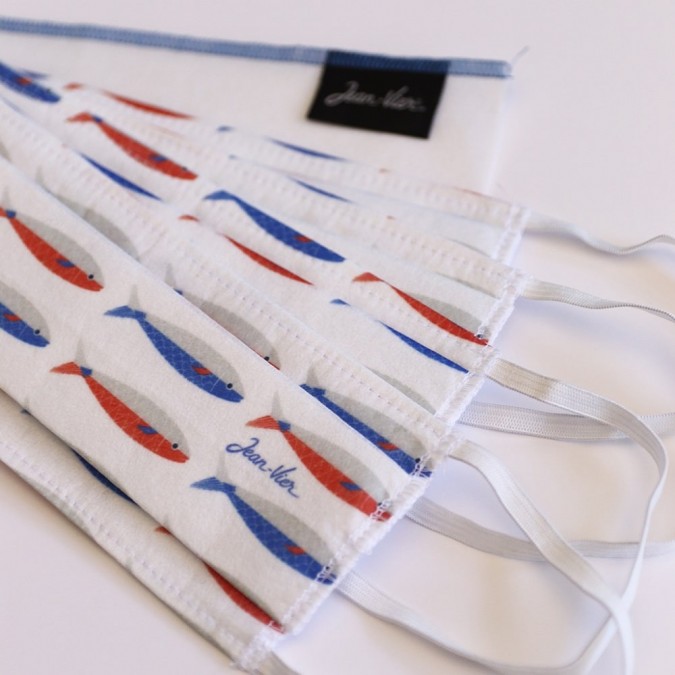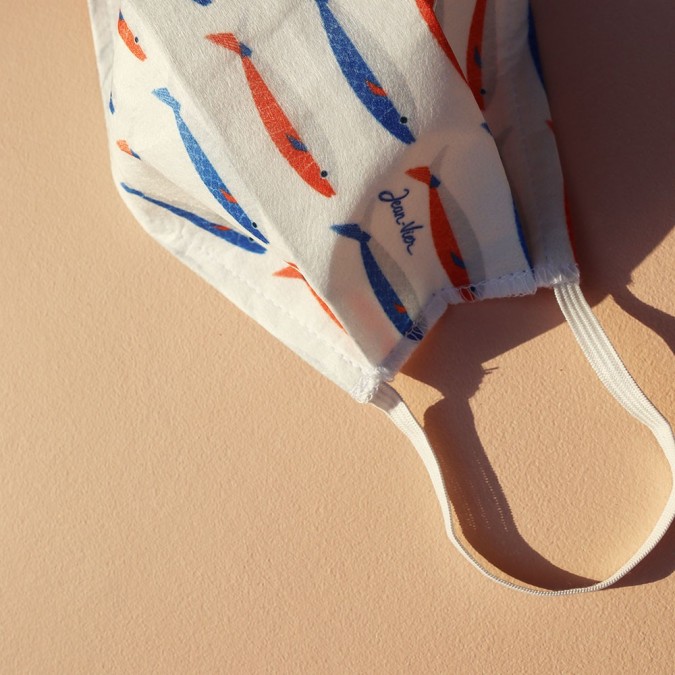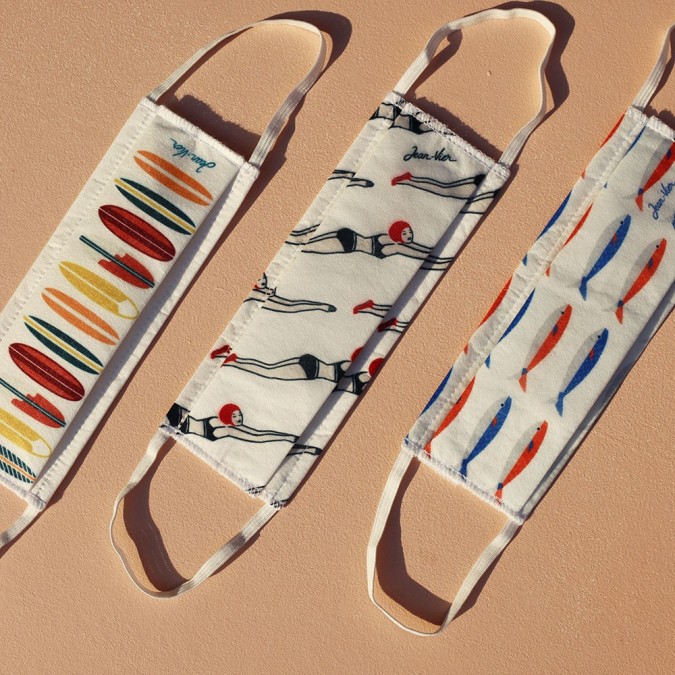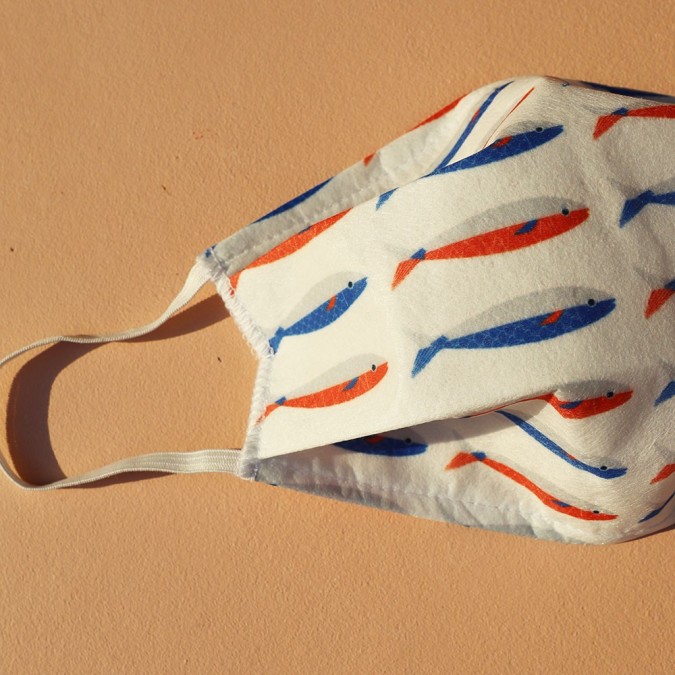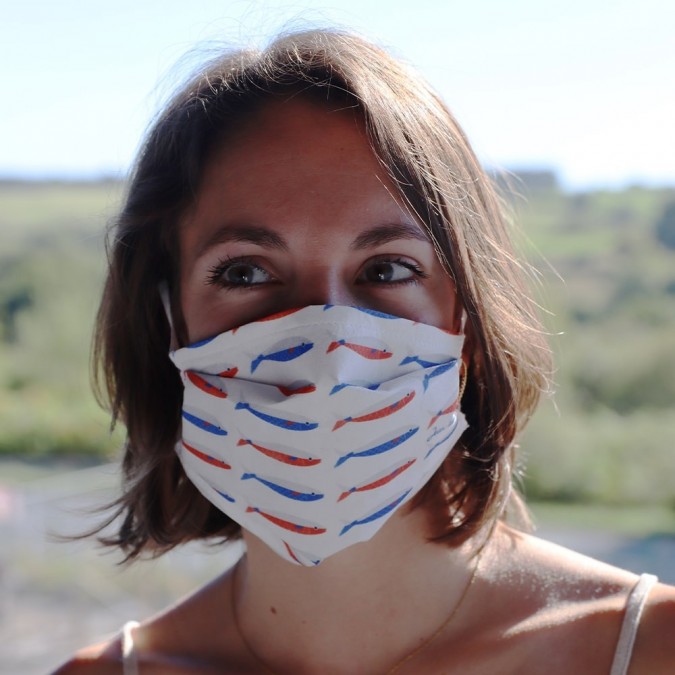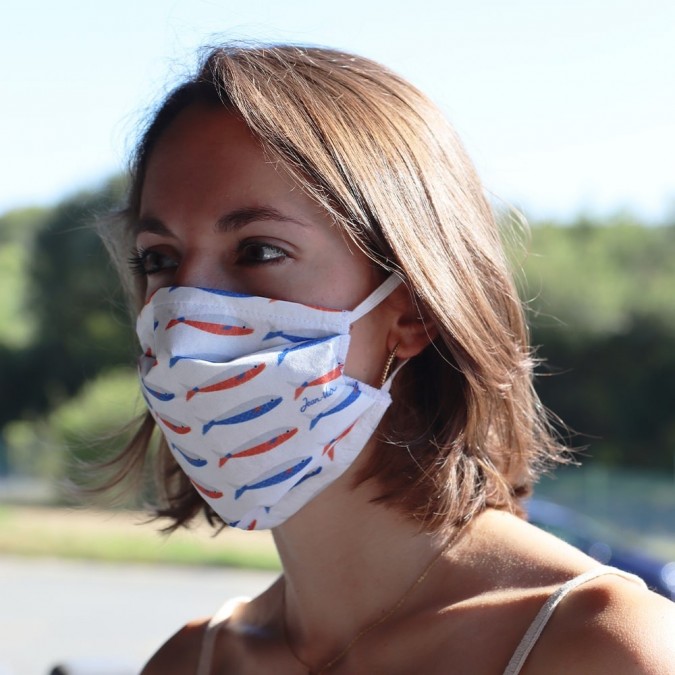  
Mask Covid-19 Blue
Etui de 4 Masques Filtering Fabric Maska Rouge/Bleu
A light, easy-to-wear mask, among the most filtering on the market.
Maison Jean-Vier manufactures washable non-woven fabric masks for protection against the Covid19 virus. This case contains 4 masks with sardine motifs printed in sublimation, reusable and washable 10 times. We manufacture the protective masks in our workshops in the Basque Country.
| Delivery location | Carrier | Delivery fees |
| --- | --- | --- |
| Maison Jean-Vier store | - | Free |
| Relais colis France | Colissimo | 6,10 € |
| Standard home delivery, France | Colissimo | 7,90 € |
| Express home delivery, France | Chronopost | 14 € |
| Home delivery, European Union | DHL | 15,10 € |
| Home delivery, outside European Union | DHL | 30 € |
Pour des raisons sanitaires évidentes, les conditions générales de vente habituelles ne s'appliquent pas sur les masques de protection. Les masques ne sont ni repris, ni échangés. Merci de votre compréhension.
Case of 4 washable fabric masks with Sardines motifs.
Our masks with Sardines all-over graphics are sublimation printed and are washable 10 times. They are made in France, in our workshops in the Basque Country. They have been tested to be very filtering and to protect you properly.
Materials: the outside is made of 100% polyester and acrylic binder and the inside is made of polyester and polyamide (microsplit).
The weight of the sardine pattern masks is only 8 grams, which makes them very easy to wear.
This mask has undergone numerous tests to be as protective as possible: a test when worn for 4 hours, which is the maximum wearing time.
This mask has no vertical sagittal stitching at the mouth and nose to prevent infiltration. On the contrary, it is a question of covering this part of the face as much as possible, so this mask is a very protective "three ply" mask.
Its case makes it possible to carry them with care and in more hygienic conditions.
Advice on the use of masks against COVID19:
Your mask must be washed before the first use.
Here are the steps to follow to use your mask properly:
1. Before putting on a face mask, wash your hands with soap and water or a hydro-alcoholic solution.
2. Apply the cloth face mask so that it covers the nose and mouth and make sure it fits snugly over the face, nose and cheeks. Check for air in the eyes when exhaling strongly.
3. Do not touch the cloth facepiece when wearing it and try not to move it. Do not touch the front of the mask, the area that receives any particles.
4. 4. Each time you touch a used alternative mask, wash your hands with soap and water or a hydroalcoholic solution.
Important reminder: the mask wear time is limited to a maximum of 4 hours.
Store your mask in a dry, clean place, away from light.
Maintenance conditions for COVID masks19 :
These protective masks are reusable and washable 10 times.
We recommend washing the mask before first use.
Machine wash at 60° with a product adapted to the fabric and whose cycle will last at least 30 minutes.
Mechanical drying or conventional drying, followed in both cases by steam ironing at a temperature of 120 to 130 degrees.
After use, the mask must be insulated for disposal or washing. It is advisable to insulate the mask in a plastic bag to be disposed of after use or in a reusable bag to be washed. In a reusable bag, the mask and bag should be washed together.
- Lavage <60 degres
- Nettoyage a sec interdit
- Repassage 1 point
- Blanchiment interdit
- Seche linge 1 point
Caractéristiques
Reference :

6M251312/1

Collection :

Filtering Fabric Maska

Color :

Rouge/Bleu

Main color :

Blue

Fiber type :

Non Tissé

Shape :

Etui de 4 Masques

Taille :

10x23