La Maison Jean-Vier, a responsible and sustainable production
Maison Jean-Vier has been established in the heart of the Basque Country for over 40 years. Born in 1981, its head office is located in Saint-Pée-Sur-Nivelle, in a rural environment with little industrialization. To remedy this, the company produces in Portugal, a country rooted in textile know-how. However, Maison Jean-Vier keeps its source of inspiration in the Basque Country, bringing together the strength and ideas of an invested and united team. Our made-to-measure workshop is still based in the Basque Country and is staffed by a team of talented sewers and seamstresses.
Quality and authenticity are daily realities that guide Jean-Vier. This is why we have decided to produce in Portugal, as some of the manufacturing stages cannot be carried out in the Basque Country. We want to meet the latest hygiene standards. For example, the washing stage, which is not possible in the Basque Country, is correctly carried out in Portugal, only 800 km from our head office. These washing stages are very important and more difficult to carry out than one might imagine. Our company is keen to comply with these standards, particularly in order to offer tablecloths that are completely hygienic and very high quality.

Our company met our main supplier more than ten years ago. This meeting has resulted in a strong relationship with this workshop run by a talented woman with expertise in the textile sector. Located only 800 km from our headquarters, we have considerably reduced our greenhouse gas emissions compared to French manufacturing as we did before 2012.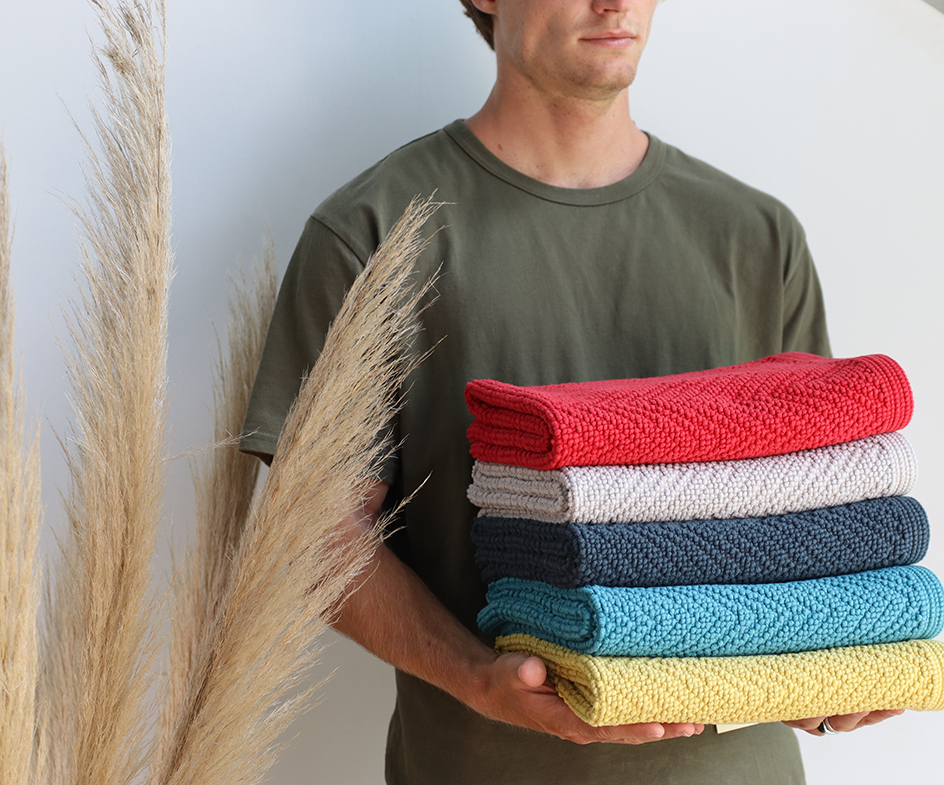 Quality and sustainable production
The production in Portugal allows a considerable mastery of the dyeing of the yarns, the finishing of the fabrics and its treatments. Moreover, the quality of the weaving is undeniable: the "Jacquard" and "dobby" looms are very efficient, among the most precious in Europe. Our supplier's workshop is equipped with the latest technology. Thanks to this, our products are extremely durable over time. Our company defends its quality against textile overconsumption. In this way, we are committed to reducing textile waste to a minimum. The result of this controlled and quality production: high quality products that meet the demand of professionals and individuals and also very easy to maintain. Indeed, their treatments reduce the need for multiple and incessant washing, which wastes water, so precious for our planet.
A human adventure
Maison Jean-Vier is the company that employs the most people in the Basque linen sector. Our mode of production and our organisation today allows us to create stable, non-permanent jobs in a wide variety of fields of expertise. Indeed, our offer is more diverse than if we were manufacturing in the Basque Country, so we bring together a team with expertise in different fields. Finally, the relationship we have with our supplier workshop in Portugal is very valuable: for 10 years, this talented team has been making products that respect our wishes and the Basque identity of our house line.
Our Environmental Commitments
Our ecological impact
We have considerably reduced our carbon footprint in just ten years because production in France required a lot of travelling back and forth to carry out all the regulatory stages of manufacture. Our supplier workshop is only 800 km away, which means very few journeys. Our fabrics are all Oekotex certified, respectful of the environment and health. Our products are made to be highly durable and hard wearing. We also produce products made from certified organic cotton. A project that will be extended to many products in our collections over time.
Our Basque identity
Our products are entirely designed in the Basque Country, drawn by our creative team working in Saint-Pée-Sur-Nivelle, which is sometimes guided by a 100% French design office working for very nice brands made in France. To design our textile creations, we preserve the Basque weaving methods in our workshop. We constantly exchange ideas so that our fabrics are made according to the rules of the art of Basque weaving. Our designs, colours and inspiration come straight from our culture and heritage. Indeed, our Maison Jean-Vier was created by a Basque family involved in traditional textiles for several generations.