Maison Jean-Vier for the Brindos Hotel, Lake and Castle
Textile designs and furniture for the entire estate
Le groupe Millésime possède de nombreux hôtels très prestigieux en France et à l'international. Parmi eux, l'hôtel Brindos vient d'être entièrement rénové et a ouvert ses portes le 15 avril 2022, à la suite d'une soirée d'inauguration grandiose. Il se situe à Anglet, en plein cœur du domaine de Brindos, caractérisé par un lac majestueux et entouré de forêts. André Elustondo, le président de la Maison Jean-Vier, a travaillé de façon très proche avec Philippe Monnin, directeur de Millésime, pour redonner à ce lieu mauresque emblématique ses lettres de noblesse et son âme basque. De très nombreux artisans et marques locales ont été choisis pour la rénovation de cet endroit unique. Thus our Basque fabrics were selected by Brindos to create a large number of textile pieces and made-to-measure furniture.
The quality and quality of the fabrics are of the highest quality.
The quality and authenticity of our products were sought by the hotel to give character to the decoration imagined by the artistic director of Millésime, Marie-Christine Mecoen.

Our company has produced a large number of bespoke designs for the hotel, suites, restaurant, floating lake lodges, spa and gym. These have included curtains, cushion covers, sofas, armchairs, tents and headboards, boat covers, parasols, table cloths and many other products that were part of the brief. We made these products by providing advice, agility and listening to their artistic direction and their entire team. Our team also managed the entire installation of all the products.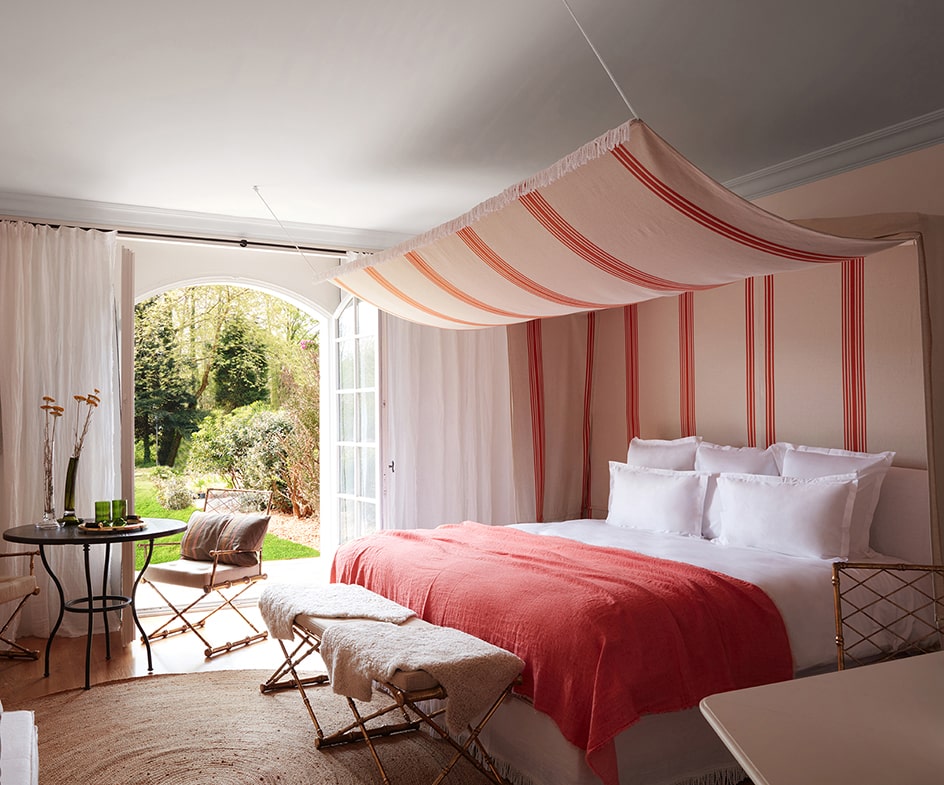 Unique textile creations for the Brindos Hotel
Tailor-made bed tents for a bohemian atmosphere
Maison Jean-Vier made custom-made bed tents for Brindos, Lac et Château. Marie Christine Mecoen and our artistic director, Clémentine Paredes, chose different fabrics to make these tents, which look like majestic canopies. These unique creations were assembled in our workshop in Saint-Pée-Sur-Nivelle, in the heart of the Basque Country, by our talented seamstresses. The manufacture of the bed tents was complex as each bed tent had to be adapted to its fabric, depending on the material and the stripe pitch. Once all the bed tent bases were made, the seamstresses then made the awnings with and without fringes. Finally, the Maison Jean-Vier team was involved in the installation of these bed tents, directly on site until the last days before the opening. It was a great team effort and a real human experience.
Tailor-made furniture for the Brindos Hotel
Our House made the Maeva Blanc fabric, a reinterpretation of the Saint-Jean-De-Luz Blanc fabric from the permanent collection, to upholster the sofas, adding fringes to create a holiday style. The furniture was also upholstered in a brand new fabric called Maïa Rouille, which we will see in the Spring Summer 2022 collection. These two Basque fabrics have also been used to make armchairs, headboards, bed runners and bed covers that decorate the whole castle and immerse us in a typical universe.
Josephine porcelain tableware
The Maison Jean-Vier has also made a custom-made porcelain tableware for the entire Brindos estate. This tableware was designed by Marie-Christine Mecoen, inspired by traditional Basque services like our Amatxi
Jean-Vier's linen throughout the Brindos estate
500 custom-made curtains for the entire estate
Our company has manufactured almost 500 100% linen curtains in the same fabric as the Beaurivage range with woven stripes in beautiful Platane, Red Gold and Ivory colours, with a black bourdon stitch finish to highlight these colours. These curtains give a magical look to the whole hotel. Interior designer Marie-Christine Mecoen decorated Brindos with a lot of fabrics to give the place a warm and enchanting atmosphere.
The first step in creating the curtains was to take measurements in all the rooms of the Château. Each room in the hotel is different, so we had to be very precise at this stage. Using the architects' plans, the Maison Jean-Vier production team was able to allocate each type of curtain to each room. Once the measurements were completed, all the curtain rods had to be ordered for each room. Once the curtains were woven, the entire Maison Jean-Vier team helped to place all the hooks on the 500 curtains once they were on site. This represents thousands of hooks on the curtain rails.
Our team also made custom-made blackout curtains and headboards that meet hotel standards for the lodges located on the private lake.
A complete and precise follow-up of the tailor-made project
Maison Jean-Vier has developed skills that are already well established thanks to this grandiose project. Indeed, it was a real challenge to follow such rich and complex specifications, with so many finished products to provide. Our team took care of the entire installation while respecting the constraints established by our client.
If you too would like our company to help you with your renovation and interior design, please contact us for a free estimate within a wide area.