Discover our selection of orange tablecloths or brick tablecloths, different shades of orange are proposed by our House for an interior full of light. A touch of citrus with pep in your home and very trendy in summer and winter.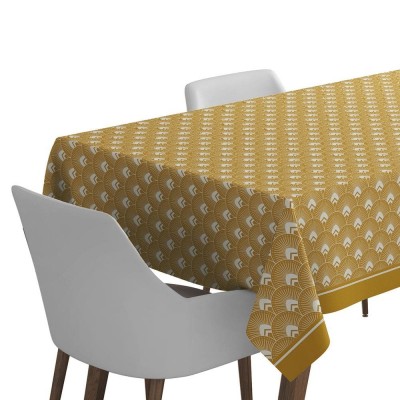 Regular price
€145.00
-30%
Price
€101.50
The orange tablecloth for all seasons
The orange tablecloth is very versatile and its citrus tone is the subject of a summery, sunny and fresh decoration. However, it is also very nice for decorating an interior in the fall. The Editeur espelette tablecloth, for example, lends itself to a rusty decoration with rusty tones such as autumn leaves. Contrasting with white, the orange colour is dynamic and lively. It adds a lot of pep to your interior.
The creative orange tablecloth
The orange tablecloth will be able to decorate your table dressed or not, simply by appreciating the textile to dress the furniture. This colour inspires us a lot and we like to use it in contrast with anthracite stripes such as the Espelette Editeur range or Beaurivage brick. Terracotta and brick tones are still very fashionable. The Ustaritz Terracotta tablecloth, for example, has stripes in this colour, or the linen tablecloth Beaurivage brick with its central anthracite stripes.
The orange tablecloth, a warm atmosphere
The orange tablecloth is synonymous with warmth and conviviality. It is a colour that is greedy and even appetizing! It has its place as much in a dining room, in a kitchen or a living room, blending perfectly with oak wood or light-toned furniture. Combine your orange tablecloth with clean dishes so that it is not too heavy. Then favour cream and ivory tones to brighten up your tablecloth.